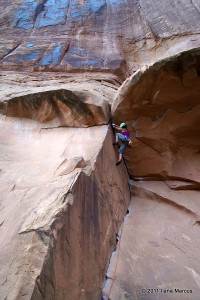 We couldn't have timed this leg of our climbing road trip any worse. The weather was not being cooperative with our original plans to climb Jah Man on Sister Superior in Castle Valley. So rather than dealing with an exciting weather situation in a desert tower, an executive decision was made over eggs and bacon that we chase the good weather and climb a local Moab crag. We chose Wall Street, what Moab-ians refer to as "sport trad". Wall Street is a street side crag with multiple single pitch trad routes.
Well fed, my climbing partner and I pulled up to the start of Wall Street and climbed any route that looked attractive. It wasn't until it rained on our little climbing parade that we flipped through the guidebook for the names and grades of the routes we had climbed. It looks like we got on:
El Cracko Diablo (10a)
A Fistful of Potash (10a)
Another Roadside Distraction (10b)
Bad Moki Roof (9) – our guidebook says "its fun until the slightly over the roof into the sand" and I couldn't put it any better.
Lucy in the Sky with Potash (10a)
Baby Blue (11a)
Static Cling (11a)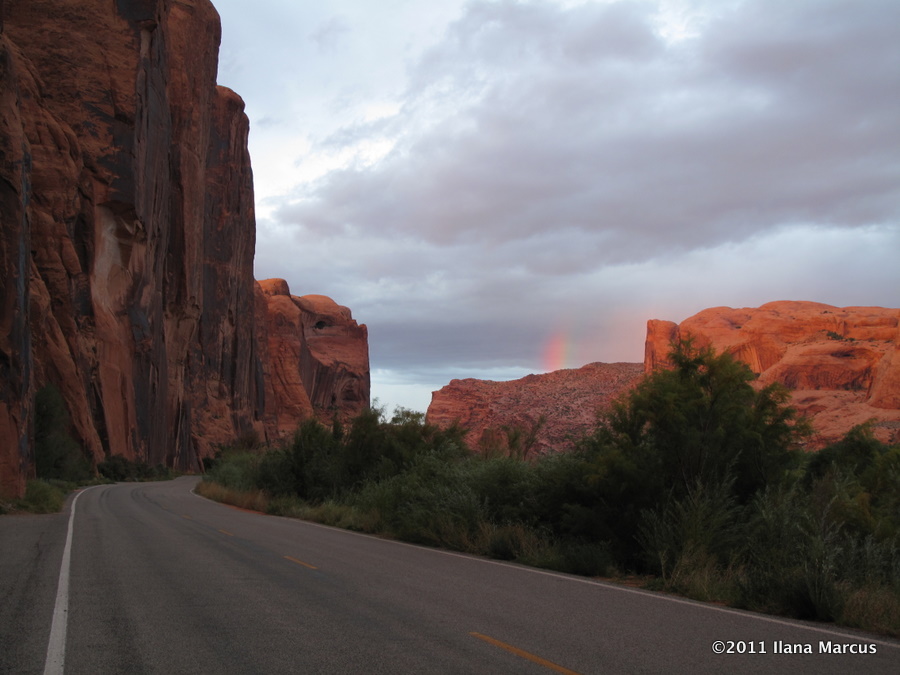 As the rain petered off, a beautiful rainbow appeared and the sun set. Our climbing day was over and we were off to meet up with our friend, Matt Moore – Canyoneering Guide and Owner, Desert Highlights. We devoured a pizza at Zaks in Moab and crashed for the night.
A special thanks to Donna Chase, who happened to be taking photos of us climbing at Wall Street unbeknownst to us, she took the photos for her family scrapbook and insisted she send them to us as well (she even offered to print and mail the photos). Usually when climbing in a team of two, it is somewhat difficult to capture the excitement of a climb in a photo. Thanks to Donna, we have a moment captured, that we would have otherwise not.
Location: Wall Street – Moab, UT
[google-map-v3 width="350″ height="350″ zoom="12″ maptype="roadmap" mapalign="center" directionhint="false" language="default" poweredby="false" maptypecontrol="true" pancontrol="true" zoomcontrol="true" scalecontrol="true" streetviewcontrol="true" scrollwheelcontrol="false" draggable="true" tiltfourtyfive="false" addmarkermashupbubble="false" addmarkermashupbubble="false" addmarkerlist="38° 32 35 N, 109° 36 3 W{}climbing.png{}Wall Street – Moab, UT" bubbleautopan="true" showbike="false" showtraffic="false" showpanoramio="false"]