Off to Europe for three weeks, a winter attempt on Mont Blanc was the launching point of my multi-destination slew of adventures. What we had planned varied wildly from what actually occurred. Please take a moment to laugh at me, rather than with me…
THE PLAN
Day One – Depart Chamonix for Les Houches (can leave car at station car park overnight), take the Bellevue  téléphérique (cable car) to 1790m/5872′. Hike to the Tête Rousse Hut (3167m/10390′) – in summer you have the luxury of taking the Tramway du Mont-Blanc train to the Nid d'Aigle (2372m/7782′), in the winter you have the joy of skinning up the extra 582m/1909′ because the train tracks are buried.
Day Two – Keep on skinning to the Goûter Hut (3817m/12522′), just shy of the summit of Aiguille du Goûter.
Day Three – Skin on up to summit of Mont Blanc (4807m/15770′) from Aiguille du Goûter and snap the splitboards back together to descend via the Grand Colouir.
THE REALITY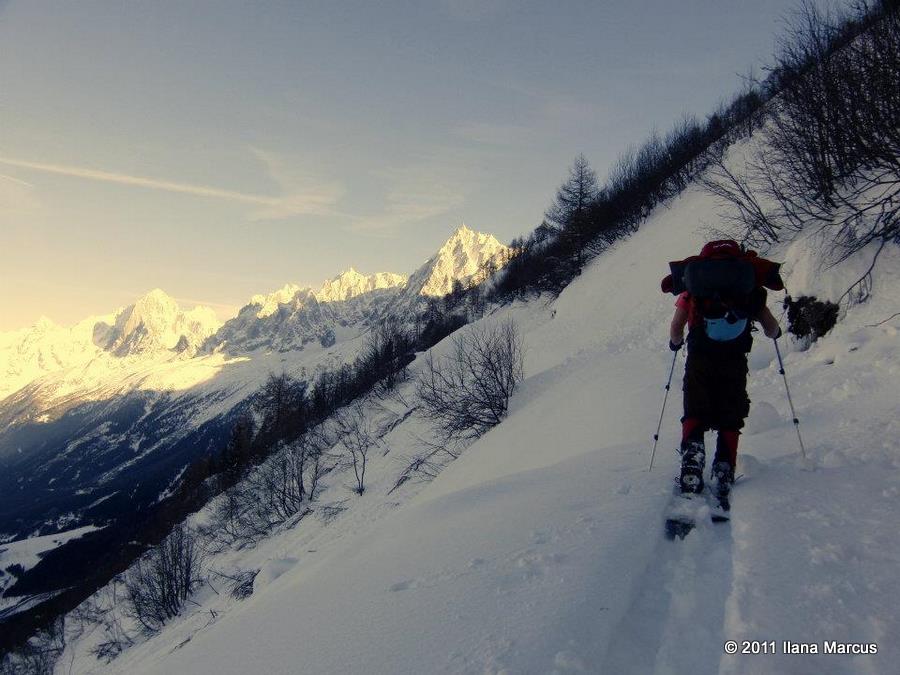 Day One – a home emergency delayed us by five and a half hours putting us on the Bellevue  téléphérique at 2:30pm. Our skinning adventure shortly followed where the cable car left off at 1790m. We skinned upwards for three hours and set up an impromptu camp due to loss of sunlight. We were very thankful to have carried up our Mountain Hardwear EV2 Tent, seeing that we fell shy of the Tête Rousse Hut.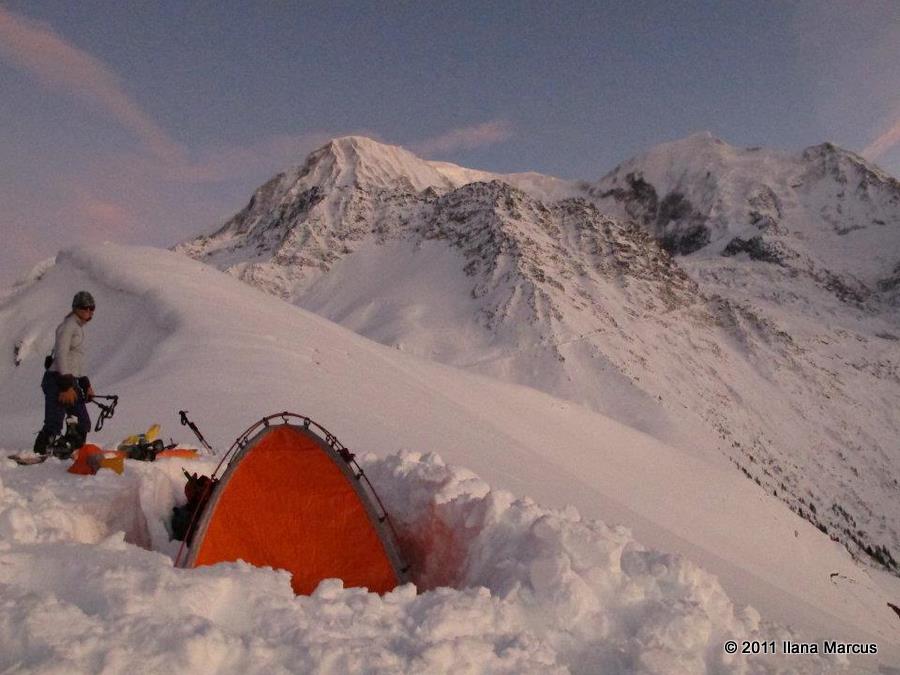 Day Two – snow, lots of fresh new white stuff. A lot more than we anticipated. We dug out the tent twice throughout the night and assessed avalanche conditions in the morning. Between a failed stove and poor conditions, we decided to call off pushing further up the mountain. I can't tell you how many neck exercises occurred before reaching this decision – double takes up the mountain and then down the mountain and up again. It is very difficult to call off a climb that you have been so excited for, but climbing really isn't always about getting to the top. The icing on the cake is what happened next…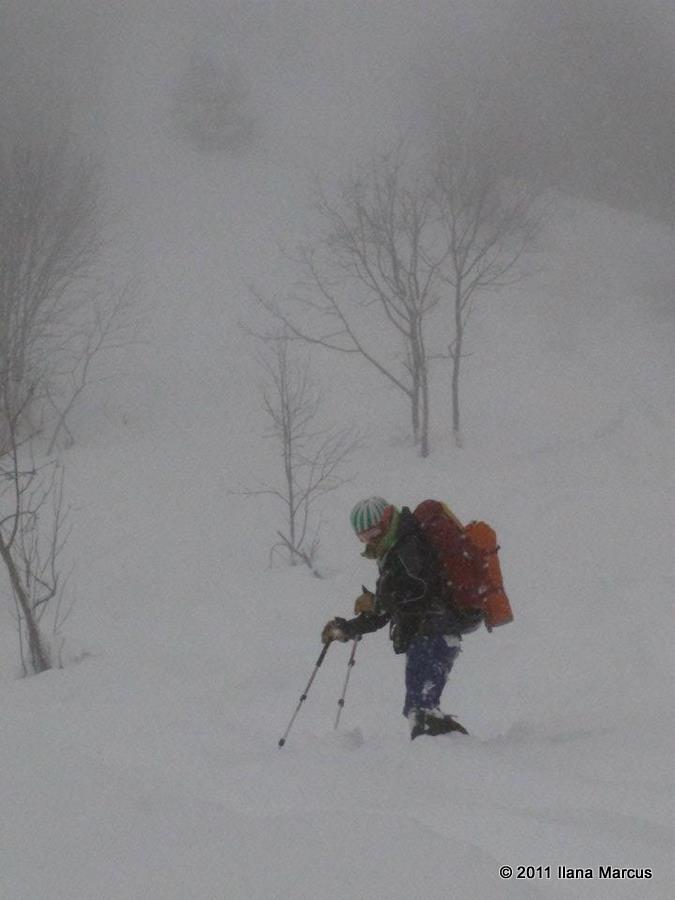 Like I mentioned before, our packs were geared up for spending five days on the mountain. Aborting mission 24 hours in, means you have a lot of heavy stuff (food, etc.) left in your pack. Also important to mention here is that it was my first time using a splitboard set-up and my first time riding in the backcountry, making me a complete barney. Now that I have set up my many excuses I can get into what happened next. Let's just say it was an interesting ride down that involved a lot of falling and maybe some wimpering trying to pick myself up out of LOTS of fresh powder with a pack weighing at least 1/3 of my bodyweight. To sum it up, I royally sucked and it was incredibly humbling. I'm pretty sure many thoughts went through my head that called my sanity into question. But nothing questions my sanity more than the fact that I am feigning for more.
No, we did not summit Mont Blanc as planned. No, I did not master the art of shredding fresh powder with a heavy pack on. Some might say this was an epic fail, but I think otherwise. I stepped very far outside of my comfort level and tried something new – multi-day backcountry snowboarding. I am not good at it and I probably won't be for quite some time, but I will definitely jump in head first over and over again until I will inevitably improve, regardless of how many face fulls of powder I eat in the process. We all need to fail at something every now and then to keep things exciting.
Location 
Les Houches, France
[google-map-v3 width="400″ height="400″ zoom="12″ maptype="roadmap" mapalign="center" directionhint="false" language="default" poweredby="false" maptypecontrol="true" pancontrol="true" zoomcontrol="true" scalecontrol="true" streetviewcontrol="true" scrollwheelcontrol="false" draggable="true" tiltfourtyfive="false" addmarkermashupbubble="false" addmarkermashupbubble="false" addmarkerlist="45.890388°, 6.798735°{}climbing.png{}Les Houches, France" bubbleautopan="true" showbike="false" showtraffic="false" showpanoramio="false"]
Recommended Guidebook
Alpine 4000m Peaks By the Classic Routes, by Richard Goedeke
Recommended Gear