Buenos dias amigos!

We arrived to some interesting weather in Monterrey, MX – rain and hail. This is quite unusual for an area boasting temps averaging 70F this time of year. Transportation from the Monterrey airport went flawlessly. We were greeted by "Magic Ed", our driver, who has lived in the area establishing climbs in the Potrero since the late 80s. He also is the man responsible for putting together a guidebook of sorts that he updates on an annual basis, of which a copy was included as part of our taxi fare. At first sight, Potrero Chico seems magical. Its limestone canyons are massive and welcoming. Usually the area is packed with queues of climbers; however, many people have been staying away from Potrero due to fear of escalating violence. Restaurants that were once packed with hungry climbers now lie vacant and closed for business as of 2010. Jean and I did a quick grocery shop at the Carniceria to stock up on the essentials (50 eggs, veggies, instant coffee, etc.) and headed to La Posada, our base camp for the next ten days. La Posada is a popular place for climber's to stay. In addition to a few rooms for let, they offer camping for $5/person and have several amenities that are unheard of for these two dirtbag girls – hot showers, kitchen facilities with stove and fridge, toilets and a very frigid swimming pool with a sundeck. We found a lovely terrace with a beautiful view of the Potrero to pitch our tents on. Our first night culminated with a 60 peso bottle of Tempranillo (5 USD) and socializing amongst the fellow La Posada campers.
Climbing day one was our crag day on the Mota wall (mota means marijuana in spanish) to get a feeling for ratings. I took it pretty easy, because my lungs were in agony but we still managed to get a pretty good feel for the ratings and I got to see my climbing partner's eyes light up as she experienced limestone for the first time. The rain had let up; however, it was still cold and windy for the majority of the day.
DAY ONE – CRAGGING
Caguama Queen (5.9) – meaning Turtle Queen, climbs a face to a wide crack and finishes with some more face climbing.
Tlaloc (5.10b) – fun, balancey/technical face climbing.
Death of a Tradman (5.10a) – an aesthetic crack line involving no crack climbing but with exciting bolting
Rusty's Crack (5.9) – Lead by Jean, a fun curving and discontinuous crack
Sleepwalkin' (5.9+) – Jean lead this one. Should more appropriately be named DirtDustin'
With day one cashed in, we headed back to the Carniceria to get more essentials – carne, salsa and Tecate Light, of course. We had high hopes of grilling but were too exhausted when we returned, so we ate at the restaurant at La Posada and saved grilling for our victory dinner the next day.
DAY TWO – ESTRELLITA (5.10b)
Bright eyed and powered by two cups of java a piece, we headed for Estrellas Canyon where Estrellita was the plan. Estrellita is a 12 pitch must do for the area. It ascends a dihedral ramp to a breathtaking summit. This was a great multi-pitch for Jean and I to work on our communication and rope management where we got to practice swinging leads, making us an efficient team for the more difficult climbs to come. This was our first multi-pitch climbing trip together, so its necessary to mesh your styles and preferences together. The weather participated quite nicely and we topped out with plenty of sun in the day to safely negotiate the five long and somewhat wandering rappels off the back side of the wall into the adjacent Los Lobos Canyon. This was Jeans first rap decent of a multi-pitch so it was very exciting and of course, she did awesome.
Estrellita (5.10b, 12 pitches, 1100′)
P1 – 5.9
P2 – 5.9+
P3 – 5.9
P4 – 5.8
P5 – Third Class
P6/P7 – 5.7/5.8 (linked)
P8 – 5.10b
P9 – 5.9+
P10/P11 – 5.10b/5.10b  (linked)
P12 – 5.7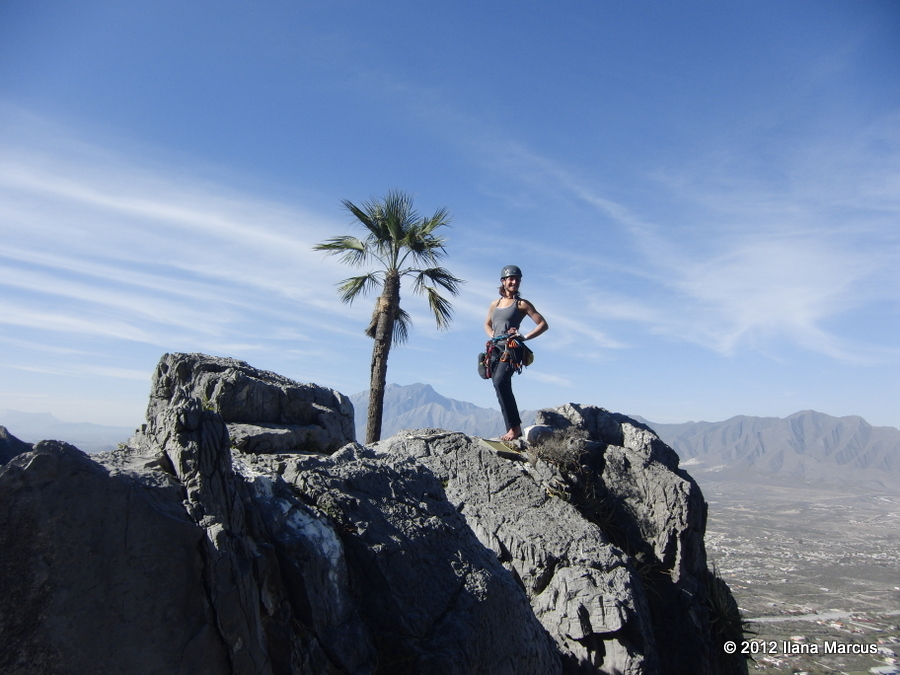 We were excited when our feet reached soil and quickly walked back to basecamp at La Posada. Before setting our gear down at the tent we saluted each other with a clank of our tecate lights. The night was far from over as we had some grilling to tend to. We puppy dog eyed our way to some firewood and a groundskeeper gave us some killer advice on kindling the fire – douse a wad of paper towels with aciete de comida (cooking oil). Jean's determination left her with some rather slick paws after a 2 hour mission to get that fire going and boy did she. We rejoiced with some pretty amazing steaks and quite possibly the spiciest jalapeno pepper of my life. Tears of happiness later, we hit the sack.
Today is rest day one and we are enjoying the accommodations at La Posada, although quite eager to get back on the rock. Stay tuned…
Your favorite classy dirtbags,
Ilana and Jean
Location: El Potrero Chico – Hidalgo, Mexico
[google-map-v3 width="400″ height="400″ zoom="12″ maptype="roadmap" mapalign="center" directionhint="false" language="default" poweredby="false" maptypecontrol="true" pancontrol="true" zoomcontrol="true" scalecontrol="true" streetviewcontrol="true" scrollwheelcontrol="false" draggable="true" tiltfourtyfive="false" addmarkermashupbubble="false" addmarkermashupbubble="false" addmarkerlist="25.956196°, -100.477580°{}climbing.png{}El Potrero Chico" bubbleautopan="true" showbike="false" showtraffic="false" showpanoramio="false"]