JUMP TO:  Route Description • Logistics • Photo Album
The North Face Project brought us to Chamonix, again, with a slight promise that weather may oblige a few ascents up some classic north faces in the Alps that I have been losing countless hours of sleep over.  After a sketchy 19 hours jaunting up a third of the Petit Dru and gloriously bailing to return right back to where we started from, we crashed out at our bivouac site defeated yet again by the classic north face.  I'll write about the details surrounding our "failure" eventually, stay tuned.
We spent the next day descending back to the Montenvers station and putzing around Chamonix where we found ourselves wandering in to the high mountain guide office (on a side note, if you ever plan to climb anything in Chamonix, stop in here first.  They are a wealth of information).  After discussing how impossible the north face of the Petit Dru was to climb this season, we asked for some recommendations on goodies in Chamonix.  Given the small weather window, we were limited to a single day push.  What would it be?
Enter Mont Blanc via The Three Monts (Les Trois Monts).  My climbing partner had climbed and skied Mont Blanc via the Gouter last season (read about that here) and I had yet to summit the top of Western Europe, so it seemed like the obvious thing to do.  At 1630, Thursday night, we called the Cosmiques Refuge to reserve two beds.  Reservations made, we haphazardly assembled our packs and ran to catch the 1730 final lift to Aiguille du Midi.  By 2000, we were tucked into our bunks with our alarms set for 0300.  Upon awaking, a huge bowl of coffee and delicious homemade bread awaited us before we departed our warm and safe refuge to head toward the top of Europe.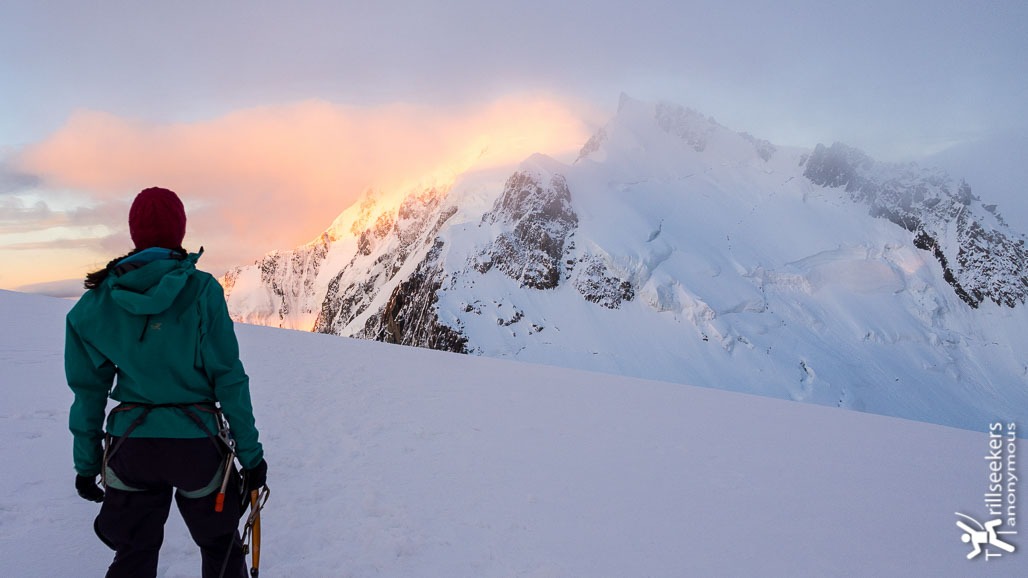 Mont Blanc needs very little introduction.  It is the tallest mountain in Western Europe, weighing in at a whopping 4,810 m (15,781 ft), with only Mount Elbrus in Russia (5,642 m/18,510 ft) contestably exceeding its height in Europe, with its location being on the Europe/Asia border.  Approximately 20,000 people set out annually to climb Mont Blanc through a variety of routes, with the most popular being the Gouter, Trois Monts and Grand Mulets (in order of decreasing popularity).
'Les Trois Monts' is a technically more challenging route than the famous Gouter route, and therefore less crowded.  It covers steeper ground and has varying technical challenges to gain seracs and safely cross crevasses, as a result of the moving glacier.  The best time to climb Mont Blanc via 'Les Trois Monts' is March to September, conditions dependent.  An early start is recommended as with the increased difficulties on good weather windows significant queues can form at the crux steps with limited options for passing.
The major technical obstacles we encountered were a serac near Mont Blanc du Tacul which required gaining a 15-20' section of 90° glacial ice amongst a few other wide open crevasses to navigate in that area, a serac below Mont Maudit, the infamous avalanche prone slope below Mont Maudit (which we opted to climb to circumnavigate the traffic jam at the crux step on the shoulder of Mont Maudit and only did so because conditions permitted), and finally the slog beyond the Col de la Brenva to the summit where the elevation really starts to suck your soul as you ascend in a sea of white.
'Les Trois Monts', (PD+, 1300m)
DAY ONE
Take a cable car to the Aiguille du Midi (3,842 m).
Descend the Aiguille du Midi arête to the glacier du Tacul, walk 45 minutes to the Cosmiques Refuge (3,613 m).  Spend the night here to acclimate, you are sleeping at an elevation 1,200 m below Mont Blanc's summit.
DAY TWO (Ascending: 5-8 hours, Descending: 4-5 hours)
Breakfast at the Cosmiques is offered at 1, 3, 5, and 7.  Guided groups will usually leave at 1, faster parties may chose to leave at 3 to catch a few more hours of sleep or at 1 to pass the guided parties for that solo mission feeling.
Start ascending the Mont Blanc du Tacul.  Warmer temperatures have opened up some large crevasses and required some sections of climbing steep and exposed terrain (seracs).
Reach the shoulder of Mont Blanc du Tacul, descend and traverse the Col du Mont Maudit, ascend a long snow slope to the crux step (50°) which requires technical climbing techniques.
Descend to the Col de la Brenva and then climb the final few hundreds of meters to the summit. YAYA!!!
DESCENT – Either go down the same way you came up (4-5 hours) or continue over the summit to follow the Gouter, traversing Mont Blanc.
Logistics
Guidebook/Guide
Guidebook:  There are a few options for Mont Blanc Climbing Guidebooks
; however, the Trois Monts route varies a bit on any given day and varies wildly on a yearly basis, so orienteering abilities are a must.
Guide:  Don't have the skills or experience to climb Mont Blanc?  Hire a guide!  It will probably save your life and you will learn a plethora of mountaineering skills.  We recommend Compagnie des Guides de Chamonix : Tél. +33 (0)4 50 53 00 88 / chamonix-guides.com.
Conditions and Weather
Office de Haute Montagne (OHM) is an excellent resource to the mountaineering community and visiting it does not obligate or even pressure you in to hiring a guide.  Here you can enquire about the route, current risks and conditions. The OHM provides the following:
General and practical information: guidebooks, maps, guides…
Information for prevention and mountain related risks.
Specific information and activity, a logbook of alpine routes climbed
Office de Haute Montagne (OHM): Maison de la Montagne, place de l'église, Chamonix.  Tel. +33 (0)4 50 53 22 08 / chamoniarde.com.
The best time to climb Mont Blanc via 'Les Trois Monts' is March to September, conditions dependant.
Location
Téléphérique de l'Aiguille du Midi (Cable Car) – 100, place de l'Aiguille du Midi, 74400 Chamonix
Accommodations
Cosmiques Refuge (3,613 m) – Reservations are obligatory! 145 beds available from February – early October. Bed and Breakfast is 42 EUR/pp and half board (+dinner) is 65 EUR/pp.
Cosmiques Refuge: GPS – 45.873303, 6.886022.  Tel: +33 (0)4 50 54 40 16 / web.
Gear
Technical equipment
Backpack
backpack, 35 to 40 liters
headlamp with fresh batteries and spare batteries
high protection sunscreen (zinc)
chapstick w/ sunscreen
snacks, remember salty foods taste great and are easier to eat at altitude
water, 2L
cash, hut is €42-€65 and Aiguille du Midi lift is €55 for a return trip, climbing the biggest peak in the EU is by no means cheap!
Clothing
Equipment by rope
1 single rope at least 50 meters
cell phone to call for help in case of emergency
guidance materials: card , altimeter, compass, GPS
Photo Album