Let's start with the question everyone has.  What on earth is a Daikon?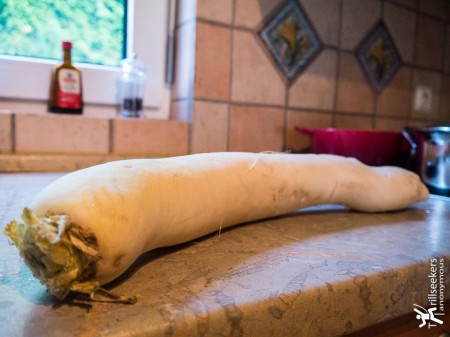 It looks like a crazy oversized carrot, sans color.  It tastes like a very mild radish when raw, which becomes even more mild when cooked.  It is an excellent source of Vitamin C and is very low in calories, with one 7″ daikon having only 61 calories (USDA nutrition information).
Ingredients
One 7" Daikon
Extra Virgin Olive Oil
Salt and Pepper
Note: What is a spiralizer? Buy one here!
Instructions
Rinse the daikon and use a vegetable peeler to remove the outer layer. Cut the daikon ends off and cut the daikon in half. Place the daikon on the spiralizer, utilizing the smallest blade type to create noodles. Crank the handle and spiral away, trimming the daikon pasta every 8-12" or so.
Preheat a skillet over medium heat, add a dash of extra virgin olive oil. Add the daikon noodles and toss for approximately five minutes, throwing in a pinch of salt and pepper to taste.
That's it! Now you have a vitamin dense and gluten free canvas for all of your favorite pasta dishes. I like to use daikon pasta with my Paleo Turkey Coconut Curry Meatballs or Daikon Carbonara with Chorizo
https://thrillseekersanonymous.com/2014/07/07/gluten-free-daikon-pasta/
© Thrillseekers Anonymous 2011-2015